Review: 8 Count - Delightful Moments of Dance Cinema (Fall for Dance North)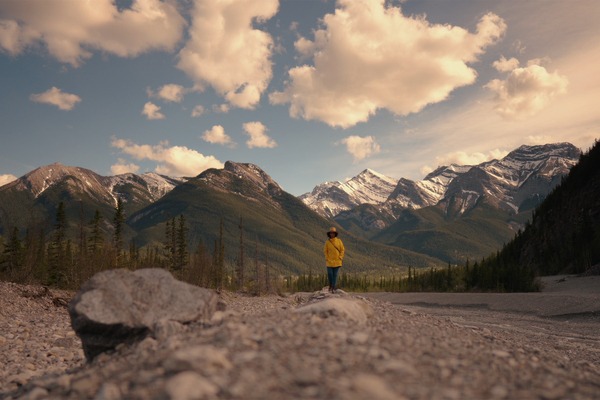 New to the Fall for Dance North festival this year is a short dance film series titled 8 Count: Delightful moments of dance cinema. 8 Count is one of the many events in the Fall for Dance North robust 2022 lineup, now in its eighth year, which includes performances, podcasts, and social gatherings - and it is a unique addition at that. The programme of seven short films provides a great mix of pieces meant to entertain, educate, evoke and inspire.
Fall for Dance North wonderfully provides many options for different levels of engagement and accessibility for all types of festival-goers, as these films are now available to stream for free on their website. They were made available online following two in-person screenings. I attended the event on Saturday, September 24, 2022, at York University's Sandra Faire and Ivan Fecan Theatre*. The night prior, it was hosted at the Betty Oliphant Theatre. These events were followed by post-show artist talks with some of the filmmakers.
Opening the film festival is Inklings (directed and choreographed by Loughlan Prior), a film project commissioned by Ballet Unleashed, which features pre-professional dancers from Canada's National Ballet School, the Ailey School, the Australian Ballet School and the New Zealand School of Dance. Taking inspiration from the intricate designs of the Rorschach's Inkblot test, dancers move amongst and initiate ink blots in an otherworldly black and white space of digital effects. In finding out that this was all shot over zoom, this piece will make you question what is possible through accessible digital technologies, as its high-quality design and cinematography are something to be desired! The movement is performed to a (literally) bubbly, light and playful soundtrack by Claire Cowan and is a great opening to the film event.
TRAX (written and directed by Lisa La Touche, co-directed by Joel Varjassy) is easily my favourite festival piece. It follows Lisa La Touche, a Canadian tap dance legend, returning to her Canadian roots in Calgary, Alberta, after working abroad. When home, she meets a scholar that tells her about the Crump twins, a Canadian tap duo from the 1940s, who performed with the like of Louis Armstrong and Sammy Davis Jr.. The short film follows her journey into learning more about Canadian tap dance ancestors and black histories that have always been right under her feet. Throughout the piece, La Touche narrates her experience and states (and wears on a t-shirt) that "I am my ancestor's wildest dreams." A striking and powerful sentiment and overall fantastic piece that speaks to the importance of learning and studying Canadian dance history and even more specifically, Canadian black dance history.
Then we get a little bit of the fabulous Jonzi D! Jonzi D is an international legend in hip-hop theatre based out of Sadler Wells in London, UK. Luckily for us, Jonzi has had many exchanges with the Toronto and broader Canadian dance scene. This festival debuts the first two short films that he has created.
The first is titled Our Bodies Back (directed by Jonzi D, poetry by jessica Care moore), which is an ode to Black womanhood. It speaks out against the realities of anti-Black racism, misogynoir and sexual violence, through dance, spoken word and on-screen text. Our Bodies Back is performed by three female artists from different countries, in a combination of breaking, waacking and contemporary movement styles (Axelle Munezero, Montréal; Bolegue Manuela, Hanover; and Nafisah Baba, London). The film's fragmented editing cuts from extreme close ups to full body shots of the dancers, as well as to different locations, in turn creating an overall enthralling feel with a permeating message.
AUTOCORRECT (directed by Jonzi D) similarly conceived and filmed to Our Bodies Back, follows three male dancers (Drew Dollaz, New York; Abdul Muyengo, Kampala; and Theopilous Godson, London) performing to the poetry of Saul Williams. The men dance in different cities, to different backdrops, and in different styles (krump, bone-breaking and flexing). Their faces are obstructed by different stark masking choices. The poetry is fast-paced and leaves me wanting to rewatch it a few more times to take it all in. AUTOCORRECT is beautifully shot, danced and edited, and provides an incredibly powerful outlet for topics of police brutality, systemic racism and effects of the pandemic.
Closing out the festival is the world premiere of Slipping (directed and choreographed by Roshanak Jaberi and Karen Kaeja). Slipping features four women in a beautiful old mansion who slip in and out of reality through emotional and psychological torments. They are only supported by the other women in the house in these moments of weakness. There are many layers to this film, in costuming, location and imagery, as it showcases beautiful moments of connection and trauma. For some reason, nothing is more beautiful and honest to me than the image of a woman screaming into a sink with bright yellow rubber gloves on. This piece feels similar to the eerie yet enchanting seminal dance film, Rosas Danst Rosa by Anne De Keersmaeker, yet is performed by familiar Canadian dance faces.
Following all seven films, a talkback with some of the filmmakers was led by Dr. Patrick Alcedo (Chair of the Dance Department at York University) and Milana Glumicic (Fall for Dance North's Producer of Digital Programming). Through the talkback, conversations revolved around how a lot of us have ventured into the world of dance films due to the pandemic, but will this continue? Is it the same as a live dance performance? What is missing? What about future recording technologies?
The audience and filmmakers portrayed a general sentiment of 'we prefer live theatre,' which I am not surprised about, specifically within a Canadian concert dance context. Yet, I would like to put my two cents in here without getting too far into the weeds. The contemporary and more traditional concert dance industry has always had a funny relationship with dance on camera and overall a general technophobia (see Sherrill Dodd's Dance on Screen (2001)).
I was happy that FFDN's Milana stated clearly, "there is room for both," which obviously, I wholeheartedly agree with. Yet, I would push further to argue that a robust dance film culture in Canada would also help boost the live performance sector. I see Fall for Dance North's work on this as incredibly important. 
I am grateful that they not only added a film series as part of their festival, but made it educational through talkbacks and accessible in the online sphere following the live screenings. The Canada Council for the Arts' most recent reports have stated that dance in Canada is behind in the global arts market due to a lack of digital literacy and ability to circulate our work globally to continue to be competitive in the global arts/dance market. I would love to see more Canadian dance films and I believe the rest of the world would as well.
There are different intimacies, creation possibilities and accessibilities to dance film that are not possible in live performance. This includes, but is not limited to, close and intimate shots of the body and a showcasing of new spaces and places that give context to different styles, histories, and audiences (like Lisa La Touche's film in the Canadian Rockies). Dance on film also provides different accessibilities to artists and audience members worldwide, and I would argue would help to promote Canadian dance to a global stage.
I have longed to attend the Dance on Camera film festival in New York City, (made accessible online through the pandemic, yet they have stopped this as in-person events have returned). This short film series gives me great hope that we could one day have a Canadian dance film festival alternative. A fantastic addition to the Fall for Dance North lineup that hopefully stays and grows for many years to come!

8 Count, presented by Fall for Dance North, played in person on Friday, September 23rd at the Betty Oliphant Theatre and Saturday, September 24th, 2022 at Sandra Faire & Ivan Fecan Theatre. Tickets were $15.00. The films will now be available to be streamed online for free from September 25th until the end of the festival on October 8th, 2022. You can find the films online here.
For more information:
www.ffdnorth.com @ffdnorth
Written by Deanne Kearney
DeanneKearney.com @deannekearney
Photo of Lisa La Touche in TRAX.
* I am a York University student and employee but had no involvement or participation in the organization of this event at York University.