Review: A Grimm Night (Transcen|Dance Project)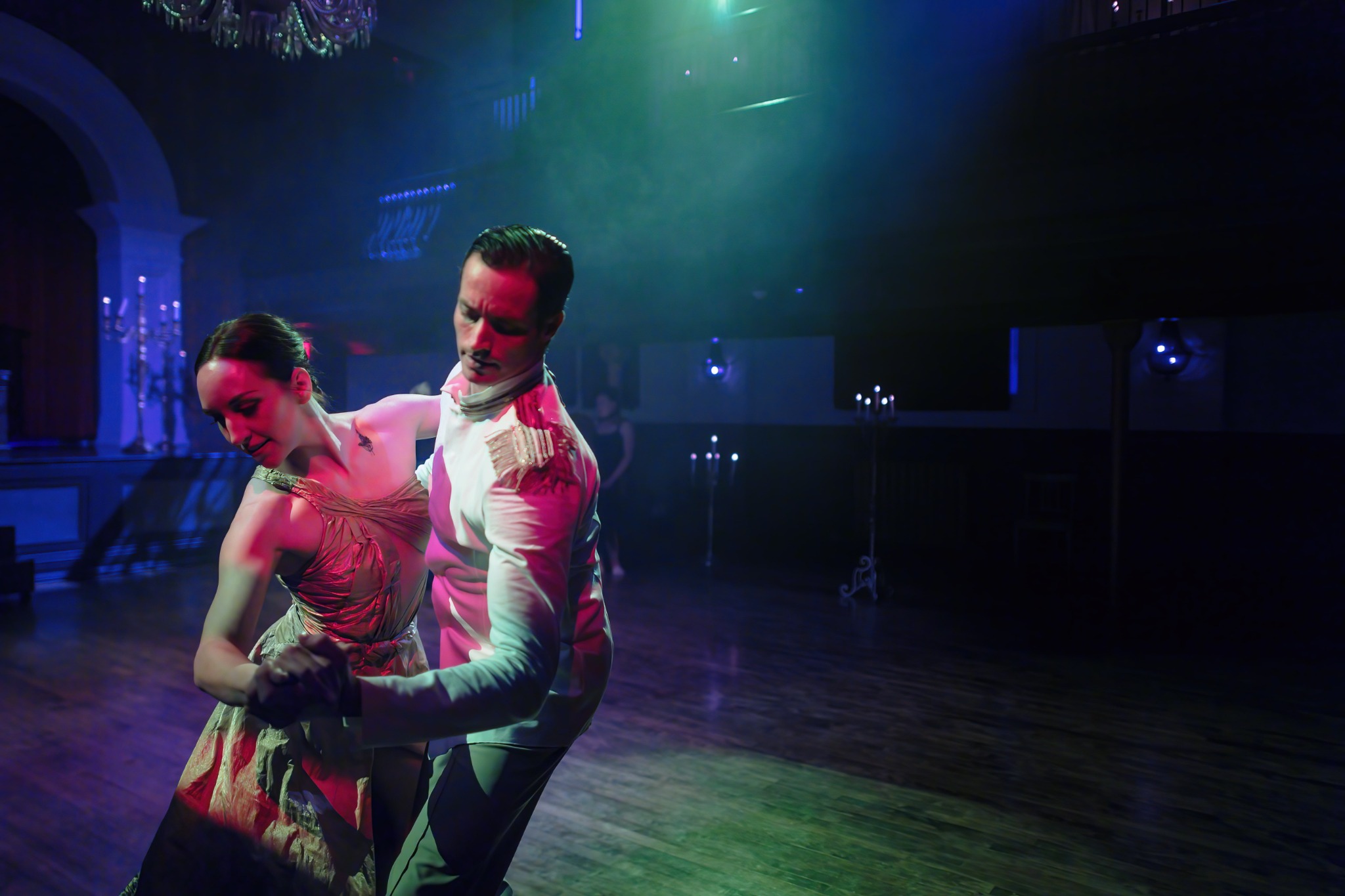 Upon entering the realm of A Grimm Night, presented by Transcen|Dance Project, I was instantly immersed in a dark, enchanting, and mystical world. This captivating and interactive dance performance takes you on a journey through the well-known stories of the Brother Grimm, such as "Cinderella" and "Snow White," while delving into themes of good versus evil and the triumph of the underdog in the dark and twisted ways only the Brother Grimm stories can (these are not your Disney fairy tales). In this rendition, you become a fly on the wall to the stories, with the freedom to choose which characters to follow through the night.
Upon arrival, you are handed a small wax-sealed invitation and a masquerade mask, which sets the stage for a fully immersive experience. Audience members wear masks to easily distinguish performers and ushers. I attended the dress rehearsal, anticipating a few hiccups for such an intricate production, yet I was met with nothing but an incredible experience and masterfully crafted performance. I was treated to a VIP experience that begins with one-on-one interactions with the characters before the show begins. I had a delightful encounter with the evil stepsister of Cinderella, in which we gossiped about the prince and played with a ouija board in her quarters.
The Great Hall, a stunning venue (I wish more performances happened here!), hosts the performance. The main floor you enter is adorned in gothic style, complete with candelabras, white candlesticks, and ancient wooden thrones. Three additional floors are available to explore, including a subterranean realm teeming with vines, flowers, butterflies, and roots on one floor and a dingy, peasant-like quarters with clothing hung up to dry and a spindle. Every inch of the space is utilised by the performers, dancing on the stairs and mini platforms unnoticed until used by a performer. 
Lighting (by Jennifer Goodman and Julia Cratchley) and sound design amplify the ethereal ambiance, complementing the haunting beauty of the Brothers Grimm's stories. Every detail, from choreography (Julia Cratchley) and design to stage management (a shout-out is well-deserved for a production of this magnitude - by Patrick Lynn), was beautifully executed.
All performers are outstanding in technique and artistry, expertly bringing the dark and twisted tales to life. The calibre of these performers is top-notch as they effortlessly interact with the audience while remaining in character and delivering stunning dance performances. This could only be done by the best of the best of performers as I truly cannot imagine what it would be like to be surrounded and followed so closely by audience members. There is truly no expense of movement or physicality through the performance, even though you might expect it due to the intricacies of the concept.
The meticulously choreographed fights (Fight director: Colleen Snell) between the different characters elevated the excitement and tension, while the supernatural acrobatics of the nymphs captivates the audience with their otherworldly grace.
Each character showcases a movement style reflecting their personality. The nymphs display ethereal, acrobatic, and earthy movements, resembling doe-like creatures as they float about the space, heads tilted in curiosity. While the prince dances with elegance, grace, and poise, yet with an added layer of confusion and longing as he searches for his princess.
A standout moment of the show was the exquisite duet between Cinderella (Kelly Shaw) and the Prince (Tyler Gledhill), featuring an elegant ballroom-inspired dance replete with stunning lifts, dips, and a final kiss that elicited audible gasps from the audience. I was left with shivers in being able to see a live version of this love story.
Remarkably, there was very little repetition in choreography. Yet, one particularly intriguing moment that I was glad to see repeated was when the evil stepmother (Evelyn Hart, famous Canadian Ballerina, what a treat!) locked Cinderella away, barring her from attending the ball. Initially, I was locked outside the room where Hart delivered a captivating performance of securing the door, refusing anyone entry into the stepsister's quarters while taking a sip from her mysterious vial. The second time around, having anticipated this event, I made sure I was inside the room, consequently being locked in with Cinderella. While inside the room, Cinderella performs a strikingly beautiful contemporary solo expressing her frustration and despair. The dance concluded with her discovering a hidden key and enlisting the help of audience members to escape her confinement.
As you can see, A Grimm Night offers a unique and personalised experience for each audience member, inviting them to engage with the performance as they choose. You can be a mere observer or almost touch the performers (while being respectful of their dance space). The show runs for an hour and a half, which feels like the perfect duration, as you traverse the different floors and stories (some seated options are available). Be sure to wear comfortable shoes! As the performance progresses, you become bolder in navigating the space, initially cautious not to impede a performer or from uncertainty about where to go or what to do, but eventually, you find yourself ardently chasing them down to ensure you catch their next act.
Various ticketing options provide different levels of VIP access, yet regardless of the ticket level, A Grimm Night is an unforgettable experience for anyone and everyone. The Grimm Night team deserves, and undoubtedly would have received if we were not already standing, a standing ovation twice over for their exceptional work.
I wish that Mirvish or a theatre giant in the city would pick up this production for a longer run of a few months so more people could experience it. I would also love to see "kid-friendly" performances, selfishly because I would like to bring my own nieces, and nephews along. Only a few adjustments would be necessary to remove the 16+ age restriction (just for a show or two).
Bravo to the entire A Grimm Night team! It is an unforgettable experience that truly brings the Brothers Grimm's tales to life for the audience. Get your tickets as I would be surprised if they did not sell out.
Disclaimers from the performance notes:
Performers may interact and make physical contact with you.
Topics are 16+ due to the nature of the show. Those under eighteen must be accompanied by an adult.
Wear comfortable shoes as you are not seated in the performance.
You will receive a masquerade mask for the performance - it will fit under some glasses, but they suggest contact lenses.
The doors open forty-five minutes before the show.
A Grimm Night, presented by Transcen|Dance Project, is playing until Sunday, April 9, 2023 at The Great Hall (1087 Queen Street West Toronto, ON M6J 1H3). Tickets range from $65 - $150 and are available online here.
Disclaimers (more information above): 16+, those under 18 must be accompanied by an adult, no seating (wear comfortable shoes), physical contact and interaction from performers, contact lenses recommended (due to audience members wearing masquerade masks through the performance).
For more information:
www.transcendanceproject.com @transcendanceproject
Photos by SVPhotography.
Written by Deanne Kearney
DeanneKearney.com @deannekearney