← Back
Review: allies and friends (Citadel + Compagnie & Wind in the Leaves Collective)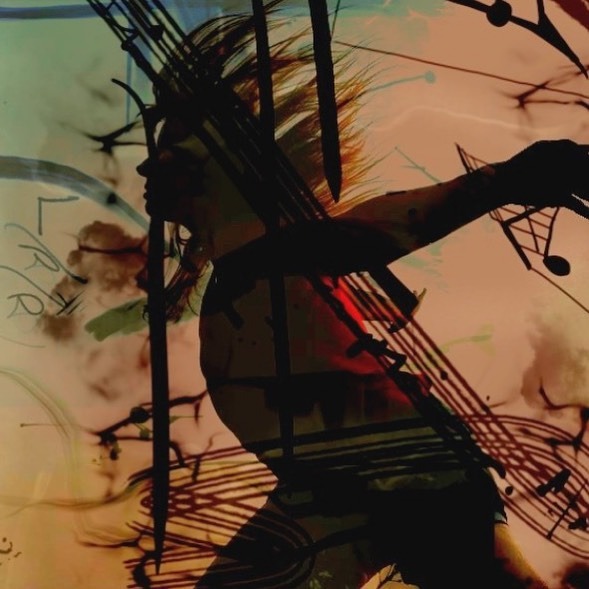 The rhythms and metaphors within both poetry and dance beautifully compliment each other in allies and friends, presented by the Citadel + Compagnie and their presenter-in-residence, Wind in the Leaves Collective. Bringing together dance and poetry, allies and friends is the May edition and third show by this presenter-in-residence this 2021/2022 season.*
In this performance, we are met with three pieces. Unfortunately, there was no paper programme for the work, therefore specific designers and dancers will not be listed in detail. Yet, Artistic Director charles c. smith opens the night with an intimate introduction to the works we will see and about the collective.
We begin with a work by Shannon Litzenberger and Ceinwen Gobert titled, How Do I Explain My Intention. Two beautiful movers wear long dark grey t-shirts and dance with a nice abstract projection at the back of the space. They begin by slowly hovering and moving their hands up and around their bodies in a clock-like manner. The duet takes up the whole space with its full-bodied movements. A strip of light crosses from diagonal corners of the stage and is played with by the dancers and choreography. At one point, the dancers lay together in a beautiful and intimate (yet fast) moment along the light strip. The piece is smooth and easy to consume, taking you on a nice journey and even includes a mild club-beat climax with the dancer's hands striking on beat —a pleasant work.
The second work, titled Facing the Garden Wall, by Sheniz Janmohamed with Sukriti Sharma, begins with a video projection of flowers surrounding a black sand image. This image is manipulated by a hand on the screen into other shapes while poetry is read. Following the video, we are met with a live solo dancer performing classical Indian choreography. At first, she dances in silence and then to a voiceover of poetry being read. She stands center stage in a spotlight with a beautiful flowing orange skirt that she perfectly maneuvers. She twirls and performs graceful, gentle, but controlled arm movements in a lovely solo performance.
Following intermission, we are met with the Wind in The Leaves Collective's first two acts of their work titled Searching for Eastman. The work focuses on Smith's poetry about being caught between worlds and identities, specifically the hardships of being in black or queer spaces during times of turbulence.
This piece involves many performers and utilizes music, live-read poetry and dance; all performers are involved in both movement and the reading of poetry. It's theatrical but not in a way that takes away from the movement. It feels as though they quickly move through tableaus that each say a thousand words. There are many movement themes to grasp onto, yet also a lot of variation within their movement. Movement motifs include the flipping of pages, pushing the speaker down into the ground, playing an invisible violin, and my favourite - performing fast chaine turns with stiff arms by their sides.
It is a painful and personal work, as you quickly come to understand by the titles of the acts, "Evil N*****" (not censored on the company page, but I have chosen to censor it here), and "Gay Guerrilla." In a recording played in the piece, Smith describes why he uses such charged titles for the acts. I would be interested in seeing the work in its entirety (and reading the poetry), yet near the end of the second act, I could feel the audience starting to fade away as it begins to feel a little too long and repetitive.
There is one more night to see the show live. Alternatively, the live stream is available till May 30, 2022. If you love dance and poetry as I do, this would be a great work to see!
*The past shows in this series were in November 2021 and April 2022. I did not see either of these performances.