Review: CRYPTO (Canadian Stage and TO Live)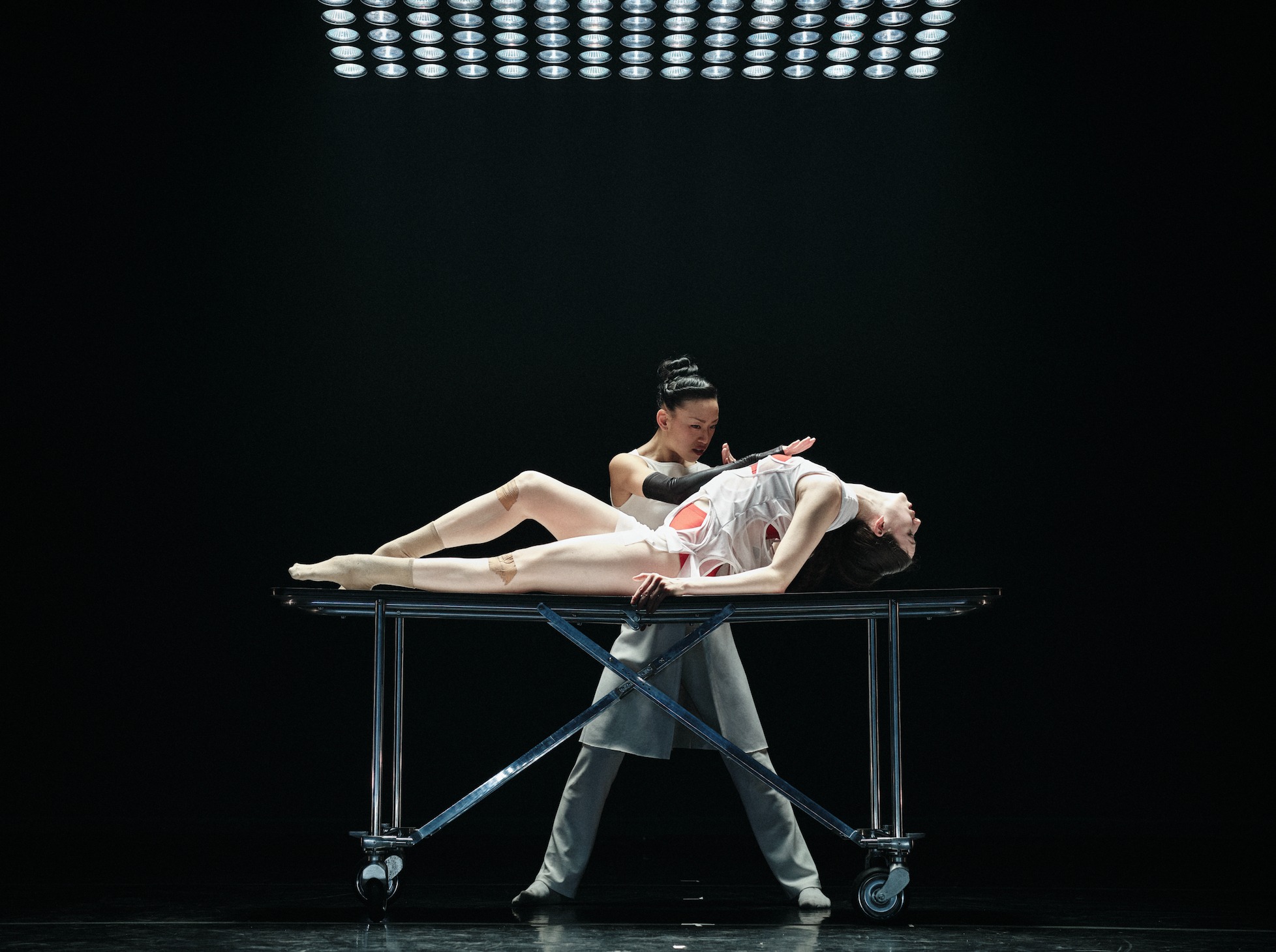 Let me start by saying that I am a huge fan of Guillaume Côté. Côté is a world-renowned dancer, and I have seen him dance countless times with the National Ballet of Canada. I was excited and curious to finally see a show of his creation. In this case, it was as the choreographer and director of Crypto. I had initially planned to see this show back in 2020, yet it was one of the first shows shut down in the early stages of the pandemic. Thankfully, many mandates and lockdowns later, Canadian Stage and TO Live brought it back this season - It is well worth the wait!
I would describe it almost as Crystal Pite-like. Crypto is based in contemporary choreography, with highly technical steps and trained dancers. It also has a grand narrative told through movement and aided by voiceovers recorded by voice actors. It is similar to Revisor, yet less animated, with a smaller cast and with more of a narrative ballet storyline.
The original story is by Royce Vavrek and follows a man from a troubled marriage who, with his wife's encouragement, leaves to identify a mysterious creature first discovered by his father. The man sets out on an expedition to find the creature and brings it home to his wife. The couple tries to live with and domesticate the creature with the help of a surgeon to hide its unhuman appearance. Overall, Crypto comments on the troubling human need to control beauty and nature. I highly recommend reading the entire program synopsis to grasp what is happening throughout. The show is only sixty-five minutes, and you will not want to waste any time diving right into the story and its characters.
The cast of four dancers each have different movement styles to distinguish their personalities, aided by the voiceovers. The married couple's movement quality (Guillaume Côté and Greta Hodgkinson) seems conversational, focusing on hand and arm gestures and a base in technical movement vocabularies, including turning jetes, perfectly placed arabesques and seamless lifts. These virtuosic movements are joined with distorted angles in their bent wrists and strained yet fully articulated fingers to create an almost eerie or painful feeling, similar to how their marriage is portrayed. The surgeon (Natasha Poon Woo) has a snappy and spastic quality (in the most fun and beautiful way that only a dancer can accomplish), and the creature (Casia Vengoechea) is gooey, slinky and almost pliable-looking, creating an other-worldly quality to her movement.
The show includes beautiful projections and video designs (created in part by many, it would seem from the programme: Joshua Ingleby, Lily Le, Fabien Locas, Thomas Payette and Mylène Chabrol). Specifically interesting was their creation of the main character's expedition; although a beautiful dancer, Côté barely has to move through the animation as it carries him through different climates and times of the day. Lastly, the lighting design (Etienne Boucher, Jean François Piché and Simon Rossiter), specifically in the surgeon's scenes, was gorgeous. The twinkling lights of the stark operating table light creates great irony for the piece.
A pre-show warning is to arrive at the show early as they are checking COVID vaccine passports at the front door, which resulted in a very long line, yet it moved quite quickly. It's not a show to be late to, that is for sure. Masks are also mandated for this performance.
Overall, Crypto is a fantastic welcome back to the Toronto dance scene! 
---
Crypto, presented by Canadian Stage and TO Live, is playing until May 7, 2022. It is playing at the Bluma Appel Theatre (Toronto Centre for the Arts, 27 Front St E, Toronto, ON M5E 1B4). The show is approximately 65 minutes with no intermission. Tickets are between $49 and $99 with discounts for those under 29, arts workers, and essential workers. Tickets are available online.


For more information:
www.canadianstage.com @CanadianStage
www.tolive.com @tolivetweets / @tolivegram / @tolivebook
@cote_danse


Written by Deanne Kearney
www.deannekearney.com @deannekearney


Photo of Natasha Poon Woo and Casia Vengoechea in Crypto.
Photo by Sasha Onyshchenko.