Review: Grin / Minors, Movement, and the Gathering of Data (The Theatre Centre and Battersea Arts Centre)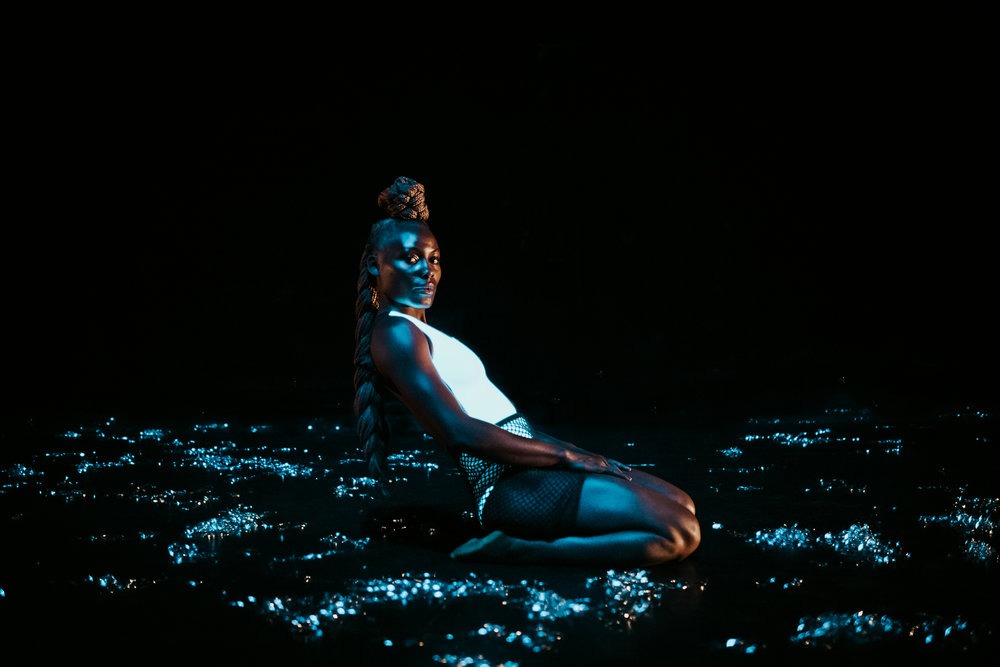 Hybrid By Design is an experimental online and in-person "festival-in-progress" presented by The Theatre Centre in partnership with Battersea Arts Centre. The festival features multimedia work by past and present Theatre Centre Residency artists and international work from the Battersea Arts Centre, located in London, England. I watched this event virtually on Wednesday, May 11th, 2022, with a specific interest in a dance film titled Grin. Yet, I was met with even more amazing films and conversations as part of the programming.
The night started with a screening of Nehal El-Hadi and Coco Guzmán's short film, The Observer Effect. This film was created to make you feel like you are being watched and meant to be seen in a 360° installation. Although this is somewhat lost in the online/virtual space, I still appreciate its motivations. I especially love the idea that it is created not just by an artist, but by a researcher (Nehal El-Hadi) with their data.
This film was followed by a 60-minute panel conversation with Nehal El-Hadi, Yusra Khogali, and Siobhan O'Flynn about the use of surveillance technology in Canada, titled Minors, Movement, and the Gathering of Data. The panel explores problems of expanding the use of surveillance technologies in Canada and how it might impact youth, racialized and marginalized groups.
We have all probably watched Netflix's The Social Dilemma, yet I love that this conversation is Canada-specific. The panel discusses issues of surveillance in Canadian malls, by the Toronto police during the Black Lives Matter protests, and by Canadian universities when using proctored exam technology. They explain how we all know we are being tracked, but now that data is being correlated and sold without consent and without information about who is buying it. They warn of the many dangers of unregulated surveillance in Canada.
Following a fifteen-minute break, we get into the dance film of the night, Grin.
Grin is a dance film directed and choreographed by Mele Broomes and features two dancers/collaborators, Kemono L.Riot and Divine Tasinda. It focuses on black love and subverting the hyper-sexualized gaze on African and Caribbean dance. The piece slowly builds over forty-five minutes from small body pulses, tableaus and gestures into grooves, full-body swings and synchronized dance sequences by the duo. There is even some krump and hip hop vocabulary from Kemono L.Riot.
The work is therapeutic for its performers and, in turn, its audience. I found it to be quite a subdued and reflective emotional journey from start to end. I would be curious to see it in person (the performance, not the film), which it will be playing at the Battersea Art Centre in London, England, from May 18th to 27th, 2022.
The design of the piece stands, shines and sparkles out! A full suit of tinsel by costume designer Zephyr Liddell is what steals the show for me. I would have loved to see even more movement in this specific costume piece, but due to its extravagant nature, it may have limitations. The lighting design by Michaella Fee is also gorgeous, incredibly clean and chic. I love their use of black light and backlighting. Lastly, the sound composition by Patricia Panther follows a pulsating score that both invigorates you and leaves you in a complete trance. It perfectly encapsulates this piece and its meanings.
There is some fantastic programming for this week-long festival. If you missed something that piques your interest, like Grin, a small note on the ticket email states that you can get links to the previous day's live streams if you email ondemand@theatrecentre.org. Best of all, the programming is all free (with donations happily accepted). I surely will be tuning in to other events this week!
–-
Grin, presented by The Theatre Centre in partnership with Battersea Arts Centre, played for one night only, on May 11, 2022. It played virtually and in person at the Franco Boni Theatre. The film was 45-minutes. The Hybrid By Design festival continues until May 15, 2022. Tickets are free, and donations are happily accepted.


For more information:
www.theatrecentre.org Instagram and Facebook: @TheTheatreCentre Twitter: @TheatreCentre
www.bac.org.uk/ Instagram and Facebook: @batterseaartscentre, Twitter: @battersea_arts

Written by Deanne Kearney
www.deannekearney.com @deannekearney

Photo of Divine Tasinda. Photo by Tiu Makkonen.