← Back
Review: Porch View Dances (Kaeja d'Dance)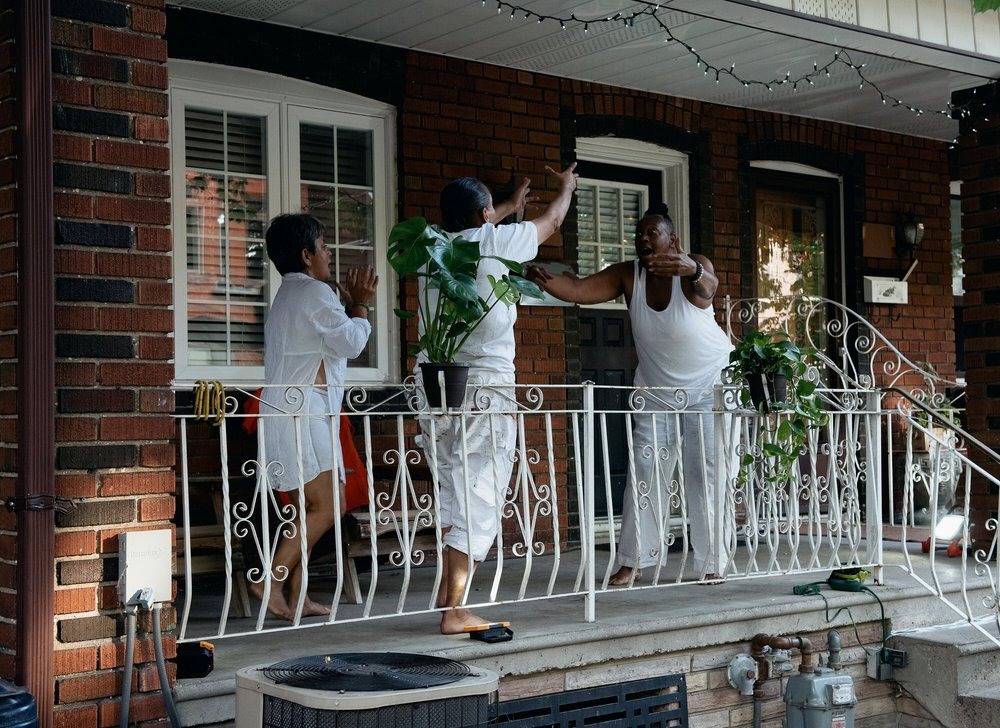 What is more of a Toronto community event than being led around the city by a quippy drag queen to see contemporary dance works performed by diverse families and friends?
Porch View Dances (PVD), presented by Kaeja d'Dance, is an annual community dance event in its eleventh year. It engages everyday people to tell stories, create movement and perform on porches, lawns and parks in Toronto's Seaton Village. Still transitioning back to its live format, this year's event is hybrid in nature, with one live performance, four dance films, an AR experience and a final participatory movement exercise.
The dance films animate the houses throughout the village, as past PVD performances are watched by the audience in the locations they were filmed. This provides a little blast from the past for previous audience members, and for new audiences, they showcase the community throughout time (the earliest film from 2012). Some of the performers happily wait on their porches to greet the audience and proudly show them the work they did years ago. The choreographers for the event are well established in Toronto. Yet, performers are everyday people, some of which have never danced before.
Audiences are led from location to location by ​the hilarious Drag Queen, Mary Moonshine (Jake Runeckles), and are met with QR codes to open links to mini dance films and AR videos. Mary Moonshine is interactive with the audience, holding a fantastic and collaborative land acknowledgment to engage everyone, especially younger audiences. This is a great family event and, hilariously, my dog's first dance show, as furry friends are welcome to come along as well!
The show begins at the meeting point of 742 Euclid Ave, with an in-person work titled Ara Shushit or "Flower Bodies." Choreographed by Nickeshia Garrick and Irma Villafuerte, this piece showcases three performers, Abena, Ana, and Dree, the resplendent matriarchs of their homes. The work provides beautiful glimpses into their lives and unique personalities through movement full of breath and care in the site-specific work.
The coolest performance of the night was an AR work, an excerpt of I Am the Child of…, choreographed by Allen Kaeja and performed by Nickeshia Garrick and Karen Kaeja. This time, when you scan the QR code, you are met with a figure of Karen or Nickeshia, which you can dance with through augmented reality technology in an alleyway. This piece will be premiering in full at the Harbourfront Centre in Fall 2022 in celebration of the 31st anniversary of Kaeja d'Dance.
For this event, make sure to bring your phone to scan the QR codes - headphones if you would like to hear the music. For me, the experience was more about the community aspect of walking and experiencing the dances together in the places they were filmed. Together, audiences celebrate beautiful ephemeral moments from the eleven-year festival, more so than necessarily intensely watching the films (yet that is welcome as well). After the festival's run, the QR codes will remain for those who wish to go on a self-guided tour or revisit these spaces and dances. They also remain in your browser history for at-home viewing. For those craving even more, additional places are listed in the program for an extended self-guided tour of QR codes scattered further around the city of Toronto.
After about an hour and fifteen minutes (the walk is 1.3 km in length and guides also offer wheelchair-accessible alternative routes), you arrive at Vermont Square Park, where audience members can participate in a flocking exercise led by Toronto dancers. This feels like something in between a group stretch and a dance party. Audiences members follow along with simple gestures accessible to people of all ages and abilities.
Overall, Porch View Dances gives a beautiful glimpse inside different Toronto households, full of diversity, strength and love, showcased through beautiful contemporary movement in a way only site-specific dance works can. To many more years of Porch View Dances!
Porch View Dances, presented by Kaeja d'Dance, is playing until Sunday, July 17, 2022. The tour begins at 742 Euclid Ave. Tickets are PWYC and can be reserved here.
For more information: www.kaeja.org @kaejaddance
Written by Deanne Kearney. DeanneKearney.com @deannekearney
Photo of Ana, Dree, and Abena in Ara Shushit or "Flower Bodies"by Nickeshia Garrick and Irma Villafuerte.