← Back
Review: The Miserere Project (Citadel + Compagnie)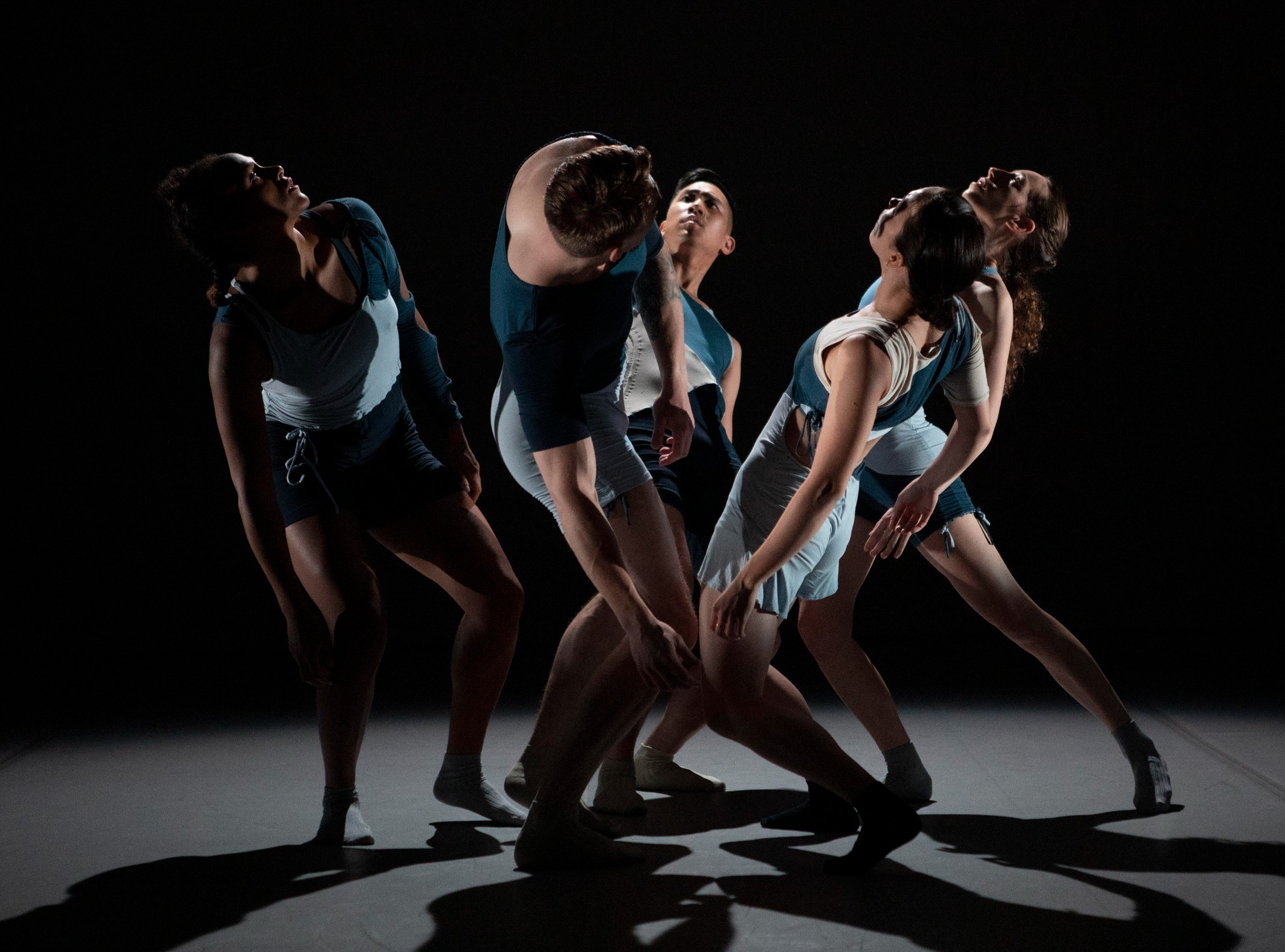 The Miserere Project, presented by the Citadel + Compagnie with Danielle Baskerville, is a dance show that celebrates the forty-first anniversary of David Earle's Miserere. The iconic work is first re-staged, and we are then met with three contemporary responses to it by the Same As Sister (S.A.S.) performance collective, Brodie Stevenson and a dance film by Penny Couchie.
Miserere, the muse of the night, is a gorgeous sculpturesque contemporary dance work where five performers slowly move through different tableaus while extending every limb to their last finger and toe. Dancers are interconnected while moving through liturgical and religious themes and imagery, such as the sign of the cross.
I have seen this work in the past (In 2011, I believe, at the Toronto Heritage Dance performance and maybe once more other than that). In the original (like the video linked above), dancers are in nude skin-tight and skin-like costumes. In contrast, they wear much more comfortable grey casual clothing of shorts, t-shirts and tank tops in this remount and have a beautifully diverse cast working together through the stunning lift sequences and interlacing choreography. A stunning remount!
As a dance history nerd, I think it's a fantastic idea to not only bring back the work as an ode to a Canadian legend but also to call for contemporary responses from a range of choreographers of today. Behind the entire project is Danielle Baskerville, who has worked with Earle for over a century. Earle states on the performance website page that she has been "a principal source of inspiration for me throughout that time."
Following the remount, we see our first response to Miserere, a filmed piece by Penny Couchie titled Love Fights. Couchie is a choreographer and community-engaged artist of Anishinaabe ancestry from Nipissing First Nation, Ontario. The film is screened at the back of the stage and uses the same original music (Miserere mei, Deus). Yet, the soundtrack is lowered, and voiceovers from the performers take over as dancers perform on a beautiful frozen landscape. Starting with the bird's eye view of all the performers on a frozen lake, we later hear and see singular performers in different water, ice and lake landscapes. It is a great film with an enticing title and provides an interesting irony as an indigenous response to such a religiously themed work.
After intermission, we are greeted by Inter Alios, choreographed by Brodie Stevenson. This piece samples the most from the original, having the same soundtrack, yet it livens up the movement with changes in pacing and its use of the whole stage space. The dancers melt with and manipulate each other, yet the feeling is different than the original as it feels even more interconnected, emotional and personal with moments of group stillness that stare right into your soul. An alluring work - I would love to see more from Brodie!
Last up, This is NOT a Remount, by Same As Sister (S.A.S.), includes six live and three video performers and frays the most from the rest of the show. Mixing dance, video and theatre, this piece takes inspiration from real and fabricated stories of those who performed in the original piece in 1981, with their biographies spoken throughout the work. Each dancer matches one from the original company, with side-by-side photos in the program (a fantastic idea!). This piece is a whirlwind of sound bytes, video bytes, all different modern and jazz dance techniques, wigs, songs and commercials from the 1970s and 1980s and much more from beginning to end. In addition, there is an in-audience coach/ voice directing dancers and a storyline of those who were lost to HIV/AIDS in the company (with the aid of Neil Sedaka's song Bad Blood from 1975).
Seeing The Miserere Project was my first time back at the Citadel + Compagnie theatre since before the pandemic. It's one of my favourite places to see work in the city with its beautiful space and welcoming atmosphere. It is a gem in the Toronto and Canadian dance scene that consistently has excellent dance works from the hard hitters to up-and-comers of contemporary dance. This production would be a great introduction to all those new and returning to the Canadian dance scene - Check it out!
–-
The Miserere Project, presented in part by the Citadel + Compagnie and Danielle Baskerville, is playing until May 21, 2022, in a live format and until May 23, 2022, virtually. It plays in-person at the Citadel and virtually. Tickets are $25.00 for the in-person performance and $5 for the live stream version. You can get tickets online here.

For more information:
www.citadelcie.com
Facebook and Twitter: @citadelcie
Instagram: @citadelcie_

Photo by John Lauener.
Written by Deanne Kearney.
DeanneKearney.com @DeanneKearney