Travel Review: Elements of Freestyle (ISH Dance Collective / Sadler Wells) in London, England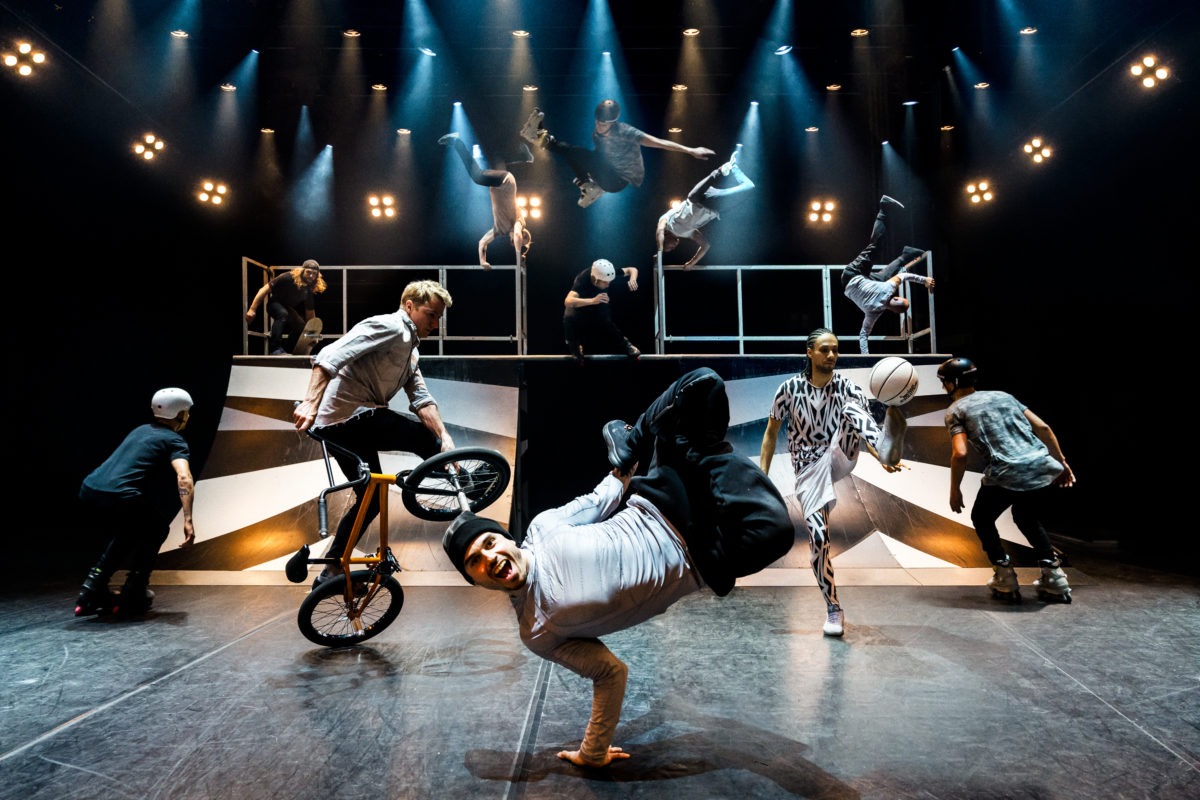 With three b-boys, two inline skaters, two freerunners, a BMX bike champion and a basketball freestyle juggler… TRY not to be entertained! Elements of Freestyle, by ISH Dance Collective, presented by Sadler Wells, is an energetic, fun, and jaw-dropping show that you and your whole family will want to see.
A skateboard ramp lines the entire back of the stage. Throughout the performance, the set is moved multiple times, each time feeling like a level up in a video game primed for more and more action from these fantastic performers. The artists begin the show by running up and down the ramp in a canon formation. They perform freezes and tricks to an eclectic soundtrack of hip-hop beats, live on-stage music of cellist Annie Tangberg and violinist Vera van der Bie, and recorded interviews of the performers.
The show includes many different sections to highlight performers in their own skills, while also putting together art forms that you would not usually see. At times, a b-boy jumps over and over a spinning bike tire or a freerunner throws a ball back and forth with the basketball juggler. All performers dab and give props to each other throughout. You can feel the strong camaraderie and trust between the cast.
The best part of the performance, in my opinion, is the BMX champion's solo piece. Dez Maarzen's breathtaking bike solo looks almost like a ballet solo variation. At times, the bike acts as pointe shoes. Dez floats above the stage while the bike spins below him. At others, it looked as though he was doing an arabesque, but with the back bike tire lifted as the gesturing leg in a serene and skilled balance.
The b-boys hold together the show, as they are the most recurring of all the performers with impressive windmills and synchronized choreography to hype up the crowd. The only thing that I would have changed about the performance is the addition of popping to the b-boy's choreography. Unfortunately, they had a hard time synchronizing the popping movements. I am sure it looked great to the average dance eye, but those who know the style might be slightly disappointed.
Although the title includes the idea of 'freestyle,' I don't believe the show is as freestyle as I initially thought it would be. Thank goodness for this! The intermingling of the different artists was remarkable, yet this intermingling would be incredibly dangerous if not planned out the way it was.
This is a great family show as it has something for everyone. Kids were gawking and gasping through the entire performance. It is only an hour long with no intermissions, so this is an excellent timeline for kids of all ages. A suggestion for audience goers with kids is to bring booster seats, as many children were bobbing up and down trying to get a higher and better view of the action.
Run (or try your hand at freerunning) to get your tickets! Fingers crossed that it tours internationally!
---

Elements of Freestyle played until April 23, 2022, at the Peacock Theatre (Portugal St, London WC2A 2HT, United Kingdom). Tickets started at £18.00. 

For more information: 
www.sadlerswells.com @sadlers_wells,
www.ishdancecollective.com @ishdancecollective
Written by Deanne Kearney
www.deannekearney.com @deannekearney
Photo by Alex Brenner