Virtual Review: Let The Elephants Dance (Annual Fundraising Gala 2022)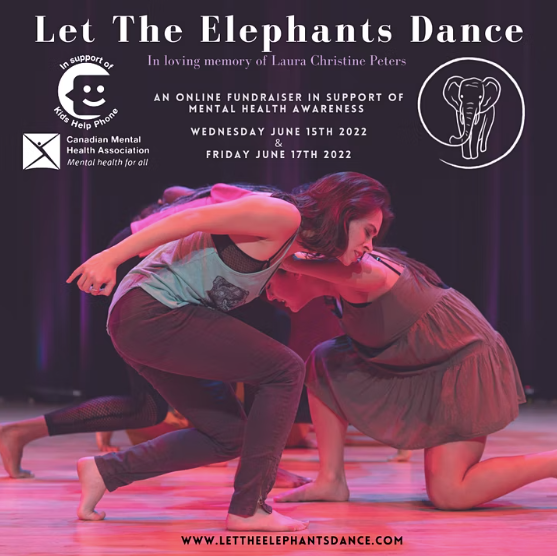 Trigger warning: Mental health topics including depression, anxiety, intrusive thoughts, body image issues/eating disorders, and suicidal ideations.
Let The Elephants Dance is an annual fundraiser presented by Michelle Crossman and dedicated to the importance of mental health awareness. The gala is in its sixth year and this is the second showcase that is virtual. To date, they have donated over $28,000.00 to mental health initiatives in Toronto and have been partnered with The Canadian Mental Health Association and Kids Help Phone since 2016.*
The 2022 edition of Let The Elephants Dance features eighteen short works and two guest speakers. Most of the works are based in contemporary dance, with some additions of tap or hip-hop movement styles. This is a virtual performance where all numbers were filmed before the showing, in turn, it provides a breadth of Toronto locales as backdrops for beautiful performances with high-quality videography.
I was touched by the entire performance, where pieces are based on different aspects of mental health, including topics of depression, anxiety, body image issues and intrusive thoughts.
Crossman is the emcee for the night and gives quick intros to each piece. One of her works is up first, some beautiful contemporary choreography on two of her young students to Carry by Ruelle & Fleurie. They rise and fall. They grasp their legs and collapse to the floor after performing leg extensions and technical turning sections. A beautiful introduction to the night!
Out of all of the pieces, there are three highlights that I just fell in love with:
Feel, performed and choreographed by Faith Jade, to a song of the same title by Kendrick Lamar, features the dancer disappearing into a black abyss. The hip-hop and popping choreography is filmed with close-up shots multiplied across the screen in different geometric formations. The dancer grooves to the lyrics with so much feeling. The piece begins by listing the names of unarmed black people killed by police in America before moving to the repeated line of 'Ain't nobody prayin' for me.' I could have watched this for a full hour - it was incredibly powerful and gorgeously performed.
Project Lullaby: Choice, choreographed by Kinaj (Kin Nguyen and Al Velasco) is an excerpt from the short film about suicidal ideations. This duet is a literal dance with death - a beautifully dark, emotional, painful, and confrontational piece. One female performer is wearing an oversized shirt and is manipulated and influenced by the other, a masked black figure. At points, the choreography intertwines the two through movement and lifts. A hug between the two made me want to jump through my screen. A captivating and thrilling piece.
Shrink, by Sadie Cahill from Brick House Productions, in collaboration with her dancers, is about the struggles dancers face with their bodies. The piece features individual dancers talking about their obstructed memories or thoughts while on a dance stage or in class, where the body image issues take over what should be a happy moment. It focuses on shame, memory, and the power and beauty of your body that can be lost or hard to remember at times. The powerful lines of 'I can't hide anymore' or 'I am ready to take up space' gave me chills—a beautiful, meaningful and relatable piece.
Although it would be too much to talk about all eighteen works, each and every one was a great addition to the night. Smaller shoutouts: I loved Shameka Blake's choreography, Levitate, performed by Willem Sadler to Kendrick Lamar's Untitled 02. Jannine Saarinen's My Dance Story, a solo performance in which she tells her experience as a dancer with anxiety and her journey to opening a dance studio, provides an interesting perspective to the showcase. Also, Giulia Tripoli's I Am Becoming to I Am Woman by Emmy Meli presents an ensemble that just belongs together. They are individuals that support one another and the work has strong videography, editing, lighting and makeup artistry included.
Before intermission, Crossman talks about the broken mental health system in our country. Even though there are many incredible programs that the gala is fundraising for, many people still need help. She urges the audience to write to their local MP and do more to help if they can. She calls to us, as a whole, to speak up about these critical issues.
Overall, this is a fantastic show to support not only because of its brilliant fundraising initiatives over the past five years, but also for the beautiful work it presents. The show gives great opportunities to both established and up-and-coming performers and choreographers. You can feel a strong community comradery around the event. I highly recommend both watching the virtual stream this year and writing to your local MPs. I will for sure be seeing it again next year!
*Due to the nature of the event, this is not a formal review but an overview of the different pieces within the show and highlights different choreographers, dancers and artists taking part.